Apple Inc. has come a long way since the fat computer monitor with a rainbow-colored apple logo imprinted on it. But, so have other companies. Apple Inc. is in considerable competition, even with it's notorious and commonly purhased product, the iPhone 4. As you use the iPhone 4, the device may store personal info and other data. Luckily, an iPhone 4 allows you to erase data. This includes apps. Whether you want to get rid of certain applications, have a clean start to your iPhone 4, or prepare the device for selling, getting rid of data can be done and is a simple task.
Be Aware Of What You're Asking For
Once data is erased from an iPhone 4, it can't be retrieved. Be aware of this when thinking about wiping your iPhone 4 clean. If all that you want to do is get rid of certain apps, then press and hold on any icon at the main screen that resembles the app you want to delete. All icons will wiggle and each will have an "x" button will appear at the top left corner. Locate the desired app that you want to get rid of and simply press the "x" button once on the icon. You can do this with other apps while in "wiggle mode."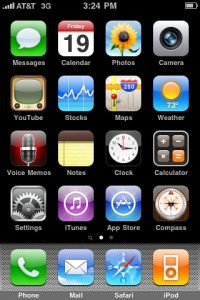 Back-up Your Data
You may want to back-up any customized settings and/or preferences to avoid investing too much time into setting up your potential new iPhone. Backing-up this kind of info can be done by opening up iTunes on a computer, plugging in the white compatible USB cable to an available USB port, and connecting the iPhone 4 to the USB cable. Allow iTunes to connect to the iPhone 4. Once it does, locate the device in iTunes, right click on it, and click "Back Up."
The Procedure
Press on the "settings" icon at the main screen. Then, scroll down until you see a "general" tab. Press the general tab and scroll all the way down to access the "reset" option button. You'll be taken to a menu of options, one of which is the "Erase All Content and Settings" option. Press on this tab. Input your 4-digit password key afterwards if necessary. A prompt will appear at the bottom of the screen, asking you to confirm that you want to erase everything on the iPhone 4. Select "Erase iPhone" and leave the device alone so it can perform the task.
Ensure that you have the latest version of iTunes before backing up data.